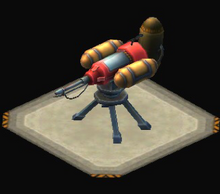 The flamethrower turret is a new feature introduced with update 3.1
Medium ranged weapon that does splash damage to ground targets.
"The Flamethrower sprays flames in a short range, dealing damage over time to all units in its line of fire. Absolutely devastating on human troops that get too close."
| | |
| --- | --- |
| Attack Range (tiles) | 7 |
| Damage Type | AoE |
| Target Type | Ground |
Level

Build

Time

Build Cost

Command Center

Level Required

Health

Points

Attack

Damage

1
5d
5,000,000
10
1,500
100
2
10d
18,000,000
11
1,750
120
3
15d
40,000,000
12
2,000
140
4
20d
62,000,000
13
2250
160