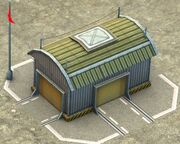 Station mechanised units inside your hangar to help defend your base.
Mechanised and Heavy Machine units can be assigned to the hangar.
PVP GAMEPLAY: Once an attacking unit enters the trigger radius of the hangar, the units inside are released to engage attackers. Units deployed from the hangar that survive a PVP attack are returned, but those destroyed are not available until replaced by the player.
SURVIVAL MODE: Units in the hangar are only deployed once, but surviving units pause in position at the end of a wave and are available to attack following waves until destroyed. On finishing survival mode, units are retained in the hangar (ie they are not lost and do not need replacement.)
| | | | | | | | | | | |
| --- | --- | --- | --- | --- | --- | --- | --- | --- | --- | --- |
| Command Center Level | 1 | 2 | 3 | 4 | 5 | 6 | 7 | 8 | 9 | 10 |
| Quantity Available | 0 | 0 | 0 | 0 | 0 | 1 | 1 | 1 | 2 | 2 |
Level

Build

Time

Build

Cost

Level Required

Health

Points

Unit

Capacity

Trigger

Radius

1
2d
800,000
6
840
20
10
2
4d
2,000,000
7
925
25
12
3
8d
3,000,000
8
1010
30
14
4
10d
6,000,000
9
1090
35
16
5
12d
12,000,000
10
1180
40
18

6

14d
18,000,000
11
1397
45
20