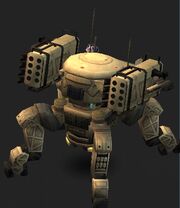 A new Heavy Machine Ground Unit added in v2.1, capable of engaging 2 targets at the same time.
Requires Heavy Machine Facility level 2.
This troop can be upgraded at the Heavy Machine Research Center.
The Quad tank is the only unit in the game capable of attacking more than one target at a time! Choose this unit if you quickly need to clear out a base!
| | |
| --- | --- |
| Primary Targets | Any |
| Target Type | Ground |
| Deployment Occupancy | 20 |
| Training Time | 8m |
| Attack Rate (seconds) | 3.5s |
| Attack Range (tiles) | 3.5 |
| Accuracy (%) | |
| Critical Chance (%) | |
| Move (tiles/s) | 1.5 |
Level

Upgrade

Time

Upgrade

Cost

Research

Level Rqd

Training

Cost

Health

Points

DPS

Damage

1
0
0
-
19,000

165

1650
93
325.5
2
10d
35.000
2
22,000

230

1950
111
388.5
3
12d
70.000
3
26,000

290

2150
132
462
4
14d
140.000
4
30,000

380

2400
150
525
5
16d
200.000
5
34,000

480

2600
171
598.5
6
18d
260,000
7
38,000

590

2800
192
672