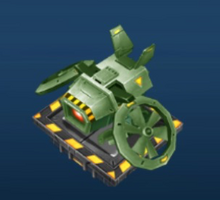 New structure added v4.5 Dec 2017, repairs base buildings in real time.
The Repair Drone flies out to repair structures within its range that get damaged, repairing them one building at a time.
The drone will not repair its own launch pad, but will repair the pads of other drones if within range.

If the launch pad is destroyed, the drone is also lost, even if it is already deployed.
| | | | | | | | | | | |
| --- | --- | --- | --- | --- | --- | --- | --- | --- | --- | --- |
| Command Center Level | 4 | 5 | 6 | 7 | 8 | 9 | 10 | 11 | 12 | 13 |
| Quantity Available | - | - | - | - | 1 | 1 | 2 | 2 | 3 | 4 |
| | |
| --- | --- |
| Healing Range | 6 Tiles |
| Repair Type | Single |
| Target Type | Own buildings |
Level

Build

Time

Build Cost

Command Center

Level Required

Health

Points

HP Recover

per 3 seconds

1
1d
300,000

300,000

8
1108
126
2
2d
800,000

800,000

9
1209
154
3

4d

2,000,000

2,000,000

10
1310
181
4
8d
3,000,000

3,000,000

11
1411
209
5
10d
6,000,000

6,000,000

12
1663
236
6
12d
12,000,000

12,000,000

13
1915
264